Maximize Your Insurance Plan with Non-Insured Benefits
Posted on: February 5, 2019 at 8:48 AM by Brian Latkowski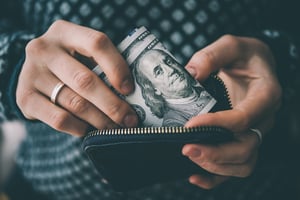 The purpose of health insurance is to protect the insured from unexpected, high medical costs. But if the insurance plan isn't completely understood or being used to its full potential, employers and employees will lose money (and face increasing premiums) due to unnecessary services and inconsistent care.
Non-insured benefits provide a strategic complement to insurance plans, working together to improve health outcomes, save money, and promote a happier, healthier workforce. Benefits like advocacy, price transparency, and telehealth services work hand-in-hand with insurance, help employees become smarter healthcare consumers, and deliver employers more "bang for their buck" on benefits.
Compass Healthcare Navigation and Price Transparency
Compass helps employees find high-quality, cost-effective care by optimizing their network and providing guidance on healthcare decisions. As part of implementation, Compass loads benefit schedules and network information into their systems, integrating with your insurance plan so employees have an immediate resource to help navigate and utilize their benefits. With Compass, employees can connect with a Health Pro who will help them understand their insurance plan, find the best provider for their needs, coordinate lower cost options for care, review medical bills and resolve errors, and more.
Say one of your employees has a high-deductible health plan with an HSA, and their primary care physician just recommended they see a specialist for their high blood pressure. The employee can call their Compass Health Pro and ask for help finding a cardiologist who works within 10 miles, has more than 8 years of experience, and is under 65 years old (really, you can get that specific with your preferences). The Health Pro will find providers within network who fit these parameters, show cost comparisons, explain how the employee's insurance plan covers specialist visits, and even schedule the appointment. If the cardiologist recommends an expensive procedure, the Health Pro can coordinate with the provider to determine how to lower the cost, potentially by moving the procedure to another day or location. Then, the Health Pro can estimate any out-of-pocket costs the employee should expect and review their medical bill to make sure they aren't over-billed. And that just scratches the surface of what Compass can do.
Without Compass, an employee in the same scenario may just accept whatever cardiologist referral their PCP gives, not knowing the provider is out of network, then overpay for both the appointment and the procedure.
One of Compass' clients, national wireless carrier T-Mobile, saw an average $516 savings per employee in their first nine months with Compass. In an example of how T-Mobile utilizes Compass, their case study mentions an employee needing a CT scan. The Health Pro called the ordering physician to confirm a CT scan was needed and not another type of imaging procedure, then researched nearby facilities. The employee received three high-quality and cost-effective options from the Health Pro, saving money for both the employee and T-Mobile.
Telehealth Services
Telehealth continues to grow, not just in popularity and utilization, but also in the complexity of services provided. Along with traditional telemedicine visits with a doctor, several telehealth providers also offer access to therapists through their telebehavioral health counseling services. By expanding their services, telehealth gives employees an additional source to address different aspects of their health, from physical to mental.
Telehealth doesn't need to be an "other" for healthcare. In fact, doctors, therapists, and other telehealth providers can help employees use their medical plans more efficiently without sacrificing continuity of care. When an employee has a minor medical issue, like a cold or pink eye, telemedicine can treat it just as easily as a brick-and-mortar clinic. The telemedicine doctor can review the employee's medical history to provide appropriate care, then send the consultation and prescription to the employee's primary care physician to have on record.
In the same way, if an employee receives counseling through their telehealth service, the therapist can keep consultations on the medical record, ensuring that any other provider has a full picture of the employee's health for treatment. With the option of telehealth, the employee is able to pay minimal out-of-pocket costs.
Pharmacy Guidance with Compass
Along with the healthcare navigation and price transparency services mentioned above, Compass Health Pros can also assist with the compliance and cost management of prescription medications. Pharmaceuticals are one of the top drivers of medical costs, so having a resource partner that guides employees to make cost-effective decisions about their prescriptions can limit the impact to healthcare costs.
Compass Health Pros have access to the insurance plan formulary and can help limit the out-of-pocket expense by making sure the employee is taking the correct medication, and by comparing medication prices. The employee is able to use their prescription plan more effectively with this guidance from the Health Pro.
The Dynamic Duo
Non-insured benefits like Compass and telehealth services can work hand-in-hand with any insurance plan. They not only fill in the gaps, but enhance the effectiveness of insurance benefits, promoting a healthier and more productive workforce.
Rising healthcare costs show no signs of slowing down, so we have to make a more substantial change to how we tackle those costs if we want to see a real improvement. That means thinking beyond adjusting premiums and diversifying insurance plans.
Give me a call if you'd like to learn how New Benefits can help your clients strategically engage their employees with these complementary solutions.
Copyright © 2019 by New Benefits, Ltd. All rights reserved.